This game has finished.
PBEM14 - Winter 1904 Adjustment
Choose a season: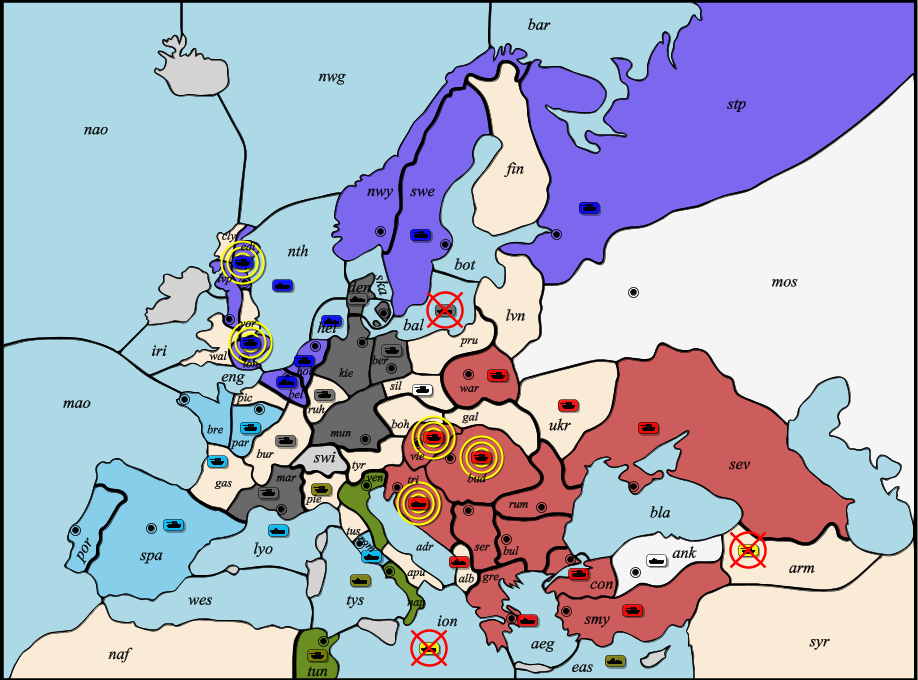 Order Results:
Austria:
Austria: B A bud
Austria: B F tri
Austria: B A vie

England:
England: B A edi
England: B A lon

Germany:
Germany: R F bal

Italy:
Fleet at Eastern Mediterranean ordered to Disband.
Not enough Disband orders were submitted. Units farthest from home supply center will be disbanded.

Italy: R F eas

Turkey:
Turkey no longer controls any supply centers, and has been eliminated.

Turkey: R A arm
Turkey: R F ion

Unit Locations:
| Austria | England | France | Germany | Italy | Russia | Turkey |
| --- | --- | --- | --- | --- | --- | --- |
| A bud | A edi | A gas | A ber | A pie | A sil | |
| A con | A hol | A par | A bur | A tun | F ank | |
| A sev | A lon | A spa | A mar | F tys | | |
| A smy | A stp | F lyo | A ruh | | | |
| A ukr | A swe | F rom | F den | | | |
| A vie | F bel | | | | | |
| A war | F hel | | | | | |
| F aeg | F nth | | | | | |
| F alb | | | | | | |
| F tri | | | | | | |